Titanic Mania!
WELCOME TO THE NEW AND IMPROVED TITANIC MANIA!



HI!! WELCOME TO THE NEW TITANIC MANIA!! NOW THIS PAGE IS OWNED JUST BY LINN. CHILI HAS MOVED ON TO BIGGER AND BETTER THINGS! SO LOOK ON IN THIS PAGE AND HAVE A MERRY CHRISTMAS!!
IN THIS SITE YOU WILL SEE PIX, INFO AND MORE!!

TITANIC CAST LIST:

LEONARDO DICAPRIO, KATE WINSLET, BILLY ZANE, FRANCES FISHER, GLORIA STUART, KATHY BATES, BERNARD HILL, VICTOR GARBEr, DAVID WARNER, JOHNATHAN HYDE, DANNY NUCCI AND SUZY AMISS.
PRODUCED, DIRECTED AND WRITTEN BY JAMES CAMERON
THE TITANIC MOVIE TOOK TWO YEARS TO MAKE AND OVER $350, 000, 000 TO CREATE. WINNING 11 OSCAR AWARDS, TITANIC IS NUMBER ONE IN THE BOX OFFICE AND SAID TO BE THE MOST EXPENSIVE MOVIE OF ALL TIME OVER WATER WORLD. IN THE MOVIE WHEN THE SHIP SUNK, THAT WAS A SIXTY FOOT MODEL. IT TOOK MANY PEOPLE TO MAKE THIS INCREDIBLE MOVIE. A BIG CHUNK OF THE MOVIE WAS COMPUTERIZED. JAMES CAMERON HAD TO GET THE MONEY FROM PARAMOUNT PICTURES AND TWENTIETH FOX! MANY PEOPLE HAVE SEEN THIS MOVIE FIVE OR SIX TIMES! THE REASONS THEY HAVE SEEN IT SO MANY TIMES ARE BECAUSE OF THE STARS IN IT, THE SONG (S) BY JAMES HORNER AND THE THEME BY CELINE DION, THE TECHNIQUES THAT ARE USED TO MAKE THE MOVIE AND BECAUSE IT IS JUST PLAIN EXCELLENT!!! WITH ALL OF THE MONEY THAT THIS MOVIE HAS MADE AND WITH ALL OF THE SUCCESSED, WHY WASN'T LEO NOMINATED FOR AN OSCAR? MANY FANS AND VIEWERS AGREE THAT THAT WASN'T FAIR AND THAT HE SHOULD HAVE BEEN NOMINATED. AND ONE OTHER THING BEFORE YOU READ ON, TITANIC HAS BEATEN STAR WARS AND JURRASIC PARK!! SEE IT IN THEATRES UNTIL JULY!! AS YOU MAY KNOW, THE GREAT LEONARDO DIDAPRIO HAS WON AN AWARD AS BEST ACTOR. TITANIC'S MY HEART WILL GO ON HAS BEEN PRONOUNCED BEST SONG. TITANIC IS THE BEST FILM OF ALL TIME. IT IS "ASTONISHING", "COMPELLING", "DEVASTING", "TOUCHING", "EXPENSIVELY DONE" AND "INCREDIBLE". AMAZING SAYS MOST OF THE FANS OF THE MOVIE. IF YOU HAVE ANY COMMENTS ON THE MOVIE OR INFORMATION YOU WISH FOR US TO ADD, E-MAIL US OR SIGN THE GUESTBOOK. PLEASE READ ON!! LYRICS TO MY HEART WILL GO ON
EVERY NIGHT IN MY DREAMS,
I SEE YOU,
I FEEL YOU,
THAT IS HOW I KNOW YOU GO ON,
FAR ACROSS THE DISTANCE,
IN SPACES BETWEEN US,
YOU HAVE COME TO SHOW YOU GO ON.
CHORUS:
NEAR, FAR WHEREVER YOU ARE
I BELIEVE THAT THE HEART DOES GO ON.
ONCE MORE YOU OPEN THE DOOR,
YOU ARE SAFE IN MY HEART,
AND MY MY HEART WILL GO ON AND ON.
LOVE CAN TOUCH US ONE TIME,
AND LAST FOR A LIFE TIME,
AND NEVER LET GO TILL WE'RE GONE.
LOVE WAS WHEN I LOVED YOU,
ONE TRUE TIME I HOLD, TOO,
IN MY LIFE WE'LL ALWAYS GO ON
CHORUS AGAIN
YOU'RE HERE,
THERE'S NOTHING I FEAR,
AND I KNOW THAT MY HEART WILL GO ON,
WE'LL STAY FOREVER THIS WAY,
, YOU ARE SAFE IN MY HEART AND MY HEART WILL GO ON
SOME REAL TITANIC FACTS:
TITANIC SET OUT ON HER MAIDEN VOYAGE ON APRIL 10TH, 1912. SHE WAS COMING FROM ENGLAND TO NEW YORK, BUT NEVER MADE IT. ON BOARD WERE OVER 2, 200 PASSENGERS INCLUDING CREW. UNKNOWN WAS THAT THERE WAS NOT ENOUGH LIFE BOATS ON THE "UNSINKABLE". AT 11:40 P.M. ON APRIL 14TH, THE SHIP STRUCK A HUGE ICEBERG IN THE NORTH ATLANTIC DEPTHS. EVERYONE ON BOARD FELT A SICKENING JOLT THAT SHOOK NOT ONLY OBJECTS, BUT MINDS AND HEARTS. THE CAPTAIN TOLD MR. MURDOCH, THE FIRST OFFICER, CONTACT EVERYONE AND MAKE THEM REMAIN CALM. SOME PEOPLE WERE THINKING; "OH, THIS IS SUCH A JOKE." AND OTHERS PUT ON CLOAKS AND SCARVES TO SEE WHAT WAS GOING ON. THE ICEBERG HAD TORE A GASH 1OO METRES ACROSS THE SIDE OF THE SHIP. SHE WAS GOING TO SINK WITHIN TWO HOURS, KNEW THOMAS ANDREWS, THE MASTER BUILDER OF THE DYING BEAST. A COMMOTION LIFTED AMONG THE PASSENGERS. THE OPERATORS USED CQD AND SOS TO ALL OTHER SHIPS AROUND THEM. THE CALIFORNIAN DIDN'T GET ANY MESSAGES OF URGENCY AT ALL. THE OPERATOR HAD BUNKED IT FOR THE NIGHT. THE CARPATHIA WAS COMING BUT WAS OVER 4 HOURS AWAY. TITANIC WAS DOOMED. AS THE LIFEBOATS GRADUALLY FILLED AND LEFT THE SINKING SHIP, THRID CLASS REMAINED ON BOARD, RETURNING BELOW TO DIE. WHAT A SIGHT IT WAS TO SAY A PRIEST SAYING PRAYERS AND PLEAING FOR THE PASSENGERS AS THE SHIP BEGAN TO CREAK AND GROAN. THE TERRIBLE, BOISTEROUS SOUNDS THAT ECHOED THROUGHOUT THE BODY OF THE GREAT TITANIC COULD BE HEARD BY THE EARS OF PASSENGERS IN NEARBY LIFEBOATS. WITH A HUGE CREAK, SHE BROKE IN HALF, SPLITTING THROUGH THE MIDDLE AND COLAPSED INTO THE ATLANTIC OCEAN, CREATING HUGE, HUGE WAVES AND SENDING OUT CRIES FROM THE PASSENGERS ON THE NEARBY LIFEBOATS. SOON AFTER THAT, THE PASSENERGS STILL ALIVE (750 0R S0)THAT WERE IN THE WATER CLUNG TO LIFEBOATS FOR DEAR LIFE, STRUGGLING WITH THE AWFULLY FRIGID COLD. THE CAPATHIA WAS ON IT'S WAY BUT STILL HAD A LONG WAY TO GO, OVER THREE HOURS, EVEN THOUGH SHE WAS GOING AT ALMOST 25 KNOTS. SEVERAL PASSENGERS OF THE TITANIC DIED IN THE WATER, FROZE TO DEATH. FINALLY WHEN THE CARPATHIA DID ARRIVE ON THE SCENE, IT WAS ALOMOST TOO LATE. THE REMAINING 700 THAT COULD CLIMBED ONTO THE SHIP. THE CARPATHIA PASSENGERS ALLOWED THEM DRY CLOTHING, DOCTORS AND FOOD TO EAT, THEY HAD BEEN STUCK IN THE WATER FOR HOURS, AWAITING SOME MIRACLE TO COME AND RESCUE THEM. NOW, IN 1998, THE PRESENT TIME, THERE IS ONLY ABOUT FIVE SURVIVOURS STILL ALIVE THAT ARE IN THEIR 80'S OR 90'S. THAT DREADFUL NIGHT AND DREAM VOYAGE WILL STAY WITH THEM FOREVER.
SEND IN YOUR POEMS TO US. THE PERSON WITH THE BEST POEM ON TITANIC WINS A FREE SIGNED PICTURE OF LEO!! HERE IS A POEM MADE BY LINN:
SUNKEN MEMORIES

LIVE LONG, SAID THE MASTER BEFORE SETTING A BEAST ASAIL,
AS THE RELATIVES OF PASSENGERS LET OUT WAILS OF FAREWELL,
A HUM AND HO SET TITANIC ABLOW,
SHE SAILED ACROSS THE ATLANTIC, PROUD AND GIGANTIC, ONE SO FANTASTIC
ONE THEY ALL REASSURED WAS UNSINKABLE.
OH, BUT ONE STUBBORN CAPTAIN MADE IT ALL HAPPEN,
THE TITANIC, SO GIGANTIC, RAN INTO AN ICEBERG.
THE UNTHINKABLE HAD OCCURED.
ALL SOULS DROVE DOWN TO THE PLUNGE OF WATER THAT WERE NOT ON LIFE BOATS.
LITTLE DID THEY KNOW THAT THEY SOON WOULD BE GHOSTS.
SO, ALL THE LUXURY ON THE BIGGEST BEAST ON THE SEA,
SUNK IN THE BOAT DOWN TO THE FRIGID DEPTHS,
SUCH A HAUNTING NIGHT,
ONE AS COLD AS DEATH.
IF ONLY THE ANSWERS COULD BE ANSWERED.
SO MANY IF ONLIES REMAIN IN OUR HEAD.
SO REMEMBER THAT MEMORIES AND DREAMS OF THE DEAD.
REMEMBER THE CAPTAIN WHO IS NOW FULL OF DREAD.
REMEMBER THE LIFE THAT BIG GIRL HAD.
NOW THINK OF SUNKEN MEMORIES.
OH, HOW IT IS SAD

NEW POEM BY LINN:
TITANIC'S SEA
YES, IT IS BLUE AND WIDE.
IT STRETCHES FAR AND BEHIND.
THE CLEAR RIPPLES AND WAVES.
ARE SOMETHING NATURE TAKES IN.
THE SKY MATCHES THE SEA.
WIDE AS CAN BE,
IT IS TITANIC'S SEA.
IT IS TITANIC'S DESTINY.
LONG AND A DIAMETOR SO WIDE.
SOMETHING HARD TO DECIDE.
A PERFECT PORTRAIT FOR A POSTCARD.
A POSTCARD THAT ENDED TITANIC'S DESTINY.
OH, BYT HOW IT WAS SO PRETTY.
SO LONG AND SO WIDE AND YET COLD.
CAN NEVER BE UNFOLDED.
BOLD AND SHIELDED BY WHITE ICE.
ICE THAT WAS NOT NICE.
FOR IT SANK THE GREAT "UNSINKABLE" TITANIC.

NEW POEM BY: LINN
MAKE IT
HE FELT THAT THE SEA NEEDED A QUEEN,
ONE SHIP SO THICK AND LEAN.
ONE WITH ALL THE RICHES OF THE WORLD,
ONE FILLED WITH HAPPY BOYS AND GIRLS.
WHAT A TREMENDOUS THOUGHT THIS WAS.
THOMAS ANDREW'S SAW THE FUSS.
HE STARTED TO MAKE IT,
BIT BY BIT,
SHIP BY SHIP.
LITTLE BY LITTLE
AND THEN IT WAS DONW.
ON THE FIRST DAY AFTER THE GIRL WAS DONE,
AFTER ALL, THE BACK BREAKING WORK WAS FUN.
TITANIC STOOD TALL AND PROUD,
SURROUNDED BY A CROWD.
HONOURED QUEEN OF THE SEA.

PIX FROM THE MOVIE BELOW: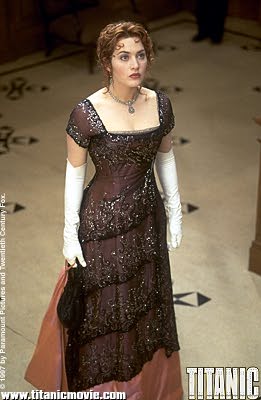 SEE PIX OF KATE AND LEO!!

SEE 11 OSCARS NEWSLETTER!!

SEE NEWS ON THE MOVIE!!

SEE THE NEWS FANS PAGE ON TITANIC!!
© 1997 leo_titanic6@hotmail.com

---
This page hosted by
Get your own Free Home Page